History

Significance of the Web Page Banner
The gentleman on the left is Dougald McKechnie, 1867-1961.
The gentleman on the right is Dougald McKenchie's son, Clayton (Mac) McKechnie, (1927-2012)
Stewart McKechnie is the son of Clayton McKechnie and is currently managing McKechnie Surveying.
McKechnie Surveying is the result of 3 generations of land surveyors. We are proud of this History.
Clayton McKechnie operated Construction Surveys in Toronto from 1961 to 1984.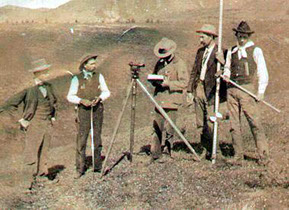 S. McKechnie Surveying (Toronto) was formed in 1984 as the result of amalgamation of Construction Surveys and Stewart McKechnie Surveing Ltd.
In 1993 the Toronto company was sold when Clayton McKechnie retired at age 65.
Interestingly, Stewart McKechnie and Clayton McKechnie enjoyed parallel careers separated by one generation. Both worked for Marshall Macklin Monaghan, Surveyors and Engineers and Proctor and Redfern, Engineers.
Stewart McKechnie has practiced solely in the Waterloo region since 1993. His brother Dean McKechnie operates a resurrected Construction Surveys in the Toronto area providing survey services to professional land surveyors.
Corporate History
1982: Stewart McKechnie, Ontario Land Surveyor (a proprietorship) was created.
1984: Incorporated as Stewart McKechnie Surveying Limited
1984: Incorporated new Toronto firm, S. McKechnie Surveying (Toronto) Ltd.
1993 Sold Toronto office to P. Salna Company and amalgamated two corporations listed above. Focused survey practice in Kitchener-Waterloo and environs area only.
2015: McKechnie Surveying Limited formed a Partnership with K. Smart Associates Limited
April 1, 2017 marked our 35th anniversary of offering professional surveying services to Kitchener- Waterloo.